*********************
I am married to Douglas Fullerton. The name Fullerton is a Scottish name.
The original Scottish clan Fullerton have their native soil on Isle of Bute, an
Island located in the south-west part of Scotland. The Fullerton clan have their
roots way back to
Mary Stewart Queen of Scots.
That rather interesting information I found out by doing a lot of research about
the Fullerton clan, and also by studying genealogy, which in turn, is one of my hobbies.
Click here to see a bit of Scotland and Isle of Bute

A short "Curriculum Vitae" about my part of the family Fullerton
Douglas and I are both in our seventies, healthy and still going strong.
As mentioned above, Douglas`s Father John Daniel Fullerton was born in Scotland. But he and his family immigrated to Australia, when he was just a young man. In Australia he studied religion, and soon became a fully educated minister, He did not work as such for a longer period, since he soon felt that he was "called upon" to be a missionary.He was determined to go to China.
Before he left Australia for fulfilling his mission , he studied medicine, and graduated the first part of that exam. He did that in order to be able to, at least be of some help, in case of some sicknesses he probably would meet out there, and be somewhat prepared to help.
Shortly thereafter he went to China, where he settled down and began his missionary work

In China he met a female missionary who came from Denmark. Her name was Martha Roenager. After some time, they got married and settled down in the southern Yunnan, where they together
build a missions station, a school and a small church for the Chinese people living in the area.
We have recently got some information from Beijing, that the old missions station that Fullerton's
build nearly 80 years ago, probably are still standing, and are being used for the very same purpose
as it was so many years since.
Fullertons build their home on a mountaintop near the town Jiangcheng.
As the years went by, Martha gave birth to three sons, with her husband John helping her as a "midwife" bringing their children into the world. Later they adopted a little Chinese girl who had been left an orphan. The boys were named respectively Kenneth, Douglas (my husband) and Bertrand. The little girl was named Rose.
Martha and John Daniel Fullerton stayed in China where they continued their missionary work for almost thirty years. However, every ten years ,they had to take one year of vacation in Denmark, in order to be acclimatized.
Click on Picture to see Photos from China

At one time Mr. Fullerton was told by some commercial travellers, that an rebel army was on their way towards Laos, trying to overthrow the King and his Land.
Fullerton travelled immediately to Laos where he gave this information to the government of Laos.
He informed them, that the rebellion army was before long approaching.
Fullerton offered to help with translating from French to Chinese and reverse, if necessary, and also he offered to trying to mediate.
King Sisavang Vong of Laos, was at that time in negotiation with China and French-Indochina
( today Vietnam ) and he was very thankful toward Fullerton for the information's, which urged him to quickly gather his army in Laos, so they could stand ready, and immediately throw back the intruders, the rebellion army, which was successfully done.
Mr.J.D. Fullerton did not look at his help as "a mission of his life," but in accordance with the truth,
the informations he brought to the government did help, so that the attack on Laos was indeed soon over, the power of authority remained in the hands of the true ruler of the Kingdom,
King Sisavang Vong of Laos. Furthermore, it was indeed a big task, solved mainly because of Fullerton's resourceful effort.
As a reward for this achievement the King made Fullerton a Knight of his royal Order:
" The Million Elephants and the White Parasol ".
This event took place in the royal Palace in the government-City Luang Prabang in the year of 1928.
The Order itself is rather beautiful, with enamel in varied shade and gold inlaid, and is mounted on a nice red silk ribbon.
The certificate to follow the order is written in Laotic and French language

Click for map and pictures from China and Luang Prabang

Click to see Order and Certificat.

Since this Order and certificate was not by law ment to be retracted in case of death, it is now our son John Fullerton's property, given to him by his Grandfather John Daniel while he was still alive,
as an inheritance, and it is a valued reminder of a very self-sacrificing man, and a good Grandfather
****************************************
As already mentioned, Douglas was born and raised in China where he lived his childhood jointly with his family, and with the Chinese people and children around them, in the small area where the missions station was located.

Even though the Fullerton's had a Danish teacher, the children was only taught to read and do arithmetic to some extend. So when Douglas was barely fourteen years of age, his parents found it of the utmost necessity for him to begin to study for real. It was therefore planned and decided by his parents, that he, and his one year older brother should travel to Denmark
( their mothers homeland ) in order to begin attending an ordinary school.

Douglas came to live with a family ( well known to his parents ) living in a village called Lyngby, a bit north of Copenhagen, and here Douglas began to go to school regularely as other Danish children.
Already as he was eighteen years of age he graduated high school from Lyngby State School.
After that he studied on the Polytechnical University in Copenhagen where he studied to become a graduate engineer with an academic degree. After finishing that, he also became an architect
*****************************************
Douglas and I met each other in the year of 1948, and in 1950 we were married.
Shortly thereafter we together started our own engineering company, where Douglas mostly was occupied with,- and devoted to,- build and construct larger motor work plants, and automobile showrooms, both here in Denmark and in Sweden.
He also build a lot of family houses, real estates, villas and cottages. So all in all we had a lot to do in those days, which we enjoyed very much.
As for my self, I was born here in Denmark, in Copenhagen, but I lost both my parents as I was just
an infant.
Fortunately my Grandmother took care of me, I spend my childhood years under her roof, and from Her I learned about the most valued things in life. She was good to me, and although it is hard on a child to have lost her parents, my Grandmother taught me to deal with the fact, and go on with my life, trying to make the best of it, and to consider myself worthy, and show it, by helping others less fortuned than myself.
As I had finished high school, I began studying nursery. After a couple of years I graduated and became a trained children's nurse. After that I took an extra exam in nursing sick children on a nearby children's hospital. After graduating I took my first job in a children's nursery home, and stayed there for five years, as a leader of the baby section, five wonderful years I found it, since I love working with children
After my marriage to Douglas Fullerton, I found it necessary to take an exam as an interior designer in order to help out in our business. So I did, and began working in our engineer firm where I had some very busy years, working with organizing and decorating offices for f. ex. chiefs of sections, rooms for office staffs, restrooms, canteens and the like. I also did some interior decorating in private homes, which I found was most interesting and satisfying in that line of work
*****************************************.
Douglas and I have, in all respects, and in every way, the best son one could wish for.
His name is John Fullerton-(named after his Grandfather)- He is an educated, trained air pilot.
He became, in a very early age, an air-Captain in Sterling Airways A/S.
Years after, when he got married and had children, his choice was to stop his flying career.
He is today working as a coordinate in the big firm ABB: Asea Brown Bowery. Since he is a first rate capacity inside the data processing, he has been an invaluable help and support to lean on,
and my teacher under the construction of my homepage, without him, I'm not sure that I would have made it so far. Thank you John ! : o )
John has two wonderful children, Philip 21 years of age and Schannie 26 years.
Schannie has a lovely little girl, Malou, now 5 years. So Douglas and I are blessed with both grandchildren and a grand-grand child. Photos of the family here.
A few years ago we sold our engineering company, and are now able to enjoy "the third age", as we call it.
We have a lot of interesting things going on, and a wonderful family and friends to attend to, so we are very happy to still be around.
Both Douglas and I are very interested in computing, and are using our computers every day.
One day,all of a sudden, I thought: Why not make my own homepage ?
Which I did, and here is the result !

Ruth Fullerton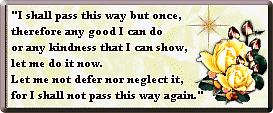 Back to to top